Customer Reviews
See what your neighbors are saying about Mr. Electric.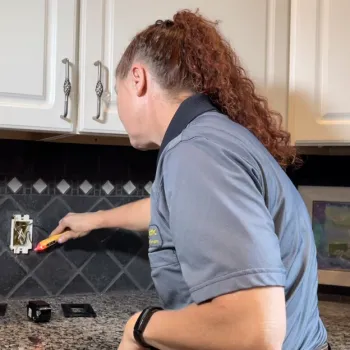 Daniel was great. Showed up on time and stayed until the work was done. Tree fell down and pulled our panel out the house. Fulton county doesn't tell you exactly when they're coming and he made sure they did and he was there so GA power could reconnect us.
Thomas Dudek
Your Neighbors Know Mr. Electric.
See what they say, in verified Google Reviews:
Entire Mr. Electric experience was great! Lots of communication! David arrived early. Quickly diagnosed the problem and performed the repair. Also provided helpful advice and guidance.Highly recommended!
Nic L.
We needed help on a Saturday evening, and they were able to send someone quickly. Malcolm arrived within an hour of our initial call, and he was awesome! He was super friendly, reassuring, knowledgeable and professional. He got our problem fixed and our power back on in no time.
Jill G.
This company accommodated me last minute when another company didn't show up to my appointment. David was our technician and he was professional and patient while answering all of my questions. The dispatch fee is fair and they don't charge a fuel fee like other companies.
Tammy M.
Dakota was professional, friendly and patient. He answered any questions we had to help us understand what the issue was with our house. He did an amazing job on our house and helped provide us with reassurance.
Stephanie T.
Before contacting Mr. Electric, three other electricians had been out and stated they couldn't identify what was causing the electrical problems we where having. But when Mr. Malcolm arrived and I told him what was happening he immediately went to the electrical box and explained why.
Roxana G.
I called 3 different electrical companies and they charged an arm and a leg to come out on a Saturday. However Mr Electric charged a reasonable price to come out on a Saturday, figured out the problem, and fixed it in a short amount of time. I was so impressed with the technician.
Cynthia W.